Gender Ratio

5 MAR 2019  |  by Sarah Barnes
University of Lynchburg Gender Ratio: Why are there so many girls on campus?
At the University of Lynchburg, in Lynchburg, Virginia, there were almost 3,000 students on campus for the 2017-2018 academic year, approximately 60% of which were female.
About 70% of the 3,000 students were undergraduate students, the rest were graduate students or transfer students.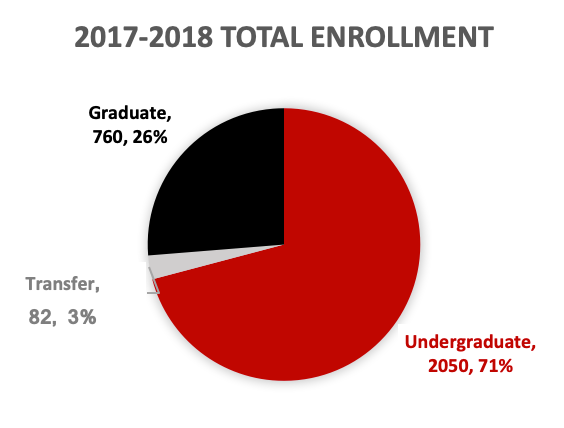 However, something prospective students find more important than this is the gender makeup of the college.
Of the almost 3,000 students, approximately 60% were female; this has been true for the last few years.
Why is that? Is this typical of all colleges?
Here is a video about the University of Lynchburg and why there are over 60% females in the student population.
According to Sharon Walters-Bower, director of admissions at the University of Lynchburg, there are a number of reasons why the gender balance at University of Lynchburg is heavily weighted towards females.
It is largely due to the fact that Lynchburg has a Liberal Arts and Science Comprehensive curriculum, which often attracts more females than males.
Also, if Lynchburg were to introduce a football program, that could increase the percentage of males on campus.
________________________________
Sources:
Hannah Angelella                     University Ambassador     
angelella_h@lynchburg.edu     433-929-0253
Sharon Walters-Bower              Director of Admissions
waltersbower@lynchburg.edu   434-544-8439
Data.gov